I don't know about you, but I always love to hear which beauty products my friends adore. With that in mind, I thought I'd use today's Five on Friday to share my current favorite beauty products.
ONE – I picked up some of this L'OREAL PARIS L'OREAL® PARIS SUBLIME BRONZE SELF-TANNING SERUM this week because I thought the idea of a serum bronzer was interesting. I'm not a huge fan of putting most self-tanners on my face, but the little bit of a tan that I had this summer was fading quickly and I was starting to look like Casper the Friendly Ghost.
Not only did this serum go on smoothly, but I much prefer the texture to a typical lotion or spray. I was pleased that it didn't leave my skin feeling oily or sticky and I like that there's a slight sparkle to the serum which leaves your skin looking sun-kissed and radiant. I also love that you can use this product on your body and your face, something I'm always hesitant to do with lotions and sprays. Last but not least, I was also thoroughly impressed with the difference in color I saw after just one usage.
Apparently, I wasn't the only one who noticed a difference. A friend whom I hadn't seen in about two weeks actually stopped me on the playground the day after I applied this and asked if I had been on vacation. When I told her that I hadn't, she asked if I had been to the tanning bed. I confided that I had used a self-tanner once. She immediately inquired about which bronzer I had used, saying she couldn't believe how great it looked!
You could definitely use this serum exclusively for your face and stick with your normal lotion or spray tanner for your body!
Obviously, as is the case with any self-tanner, you'll have to rub it in well and wash your hands thoroughly after applying. I used this for my full body and put it on very quickly the first few times, so I had a few minor streaks around my wrists. If you choose to use this on your full body, I would recommend paying close attention to your wrist areas, making sure to rub it in completely and not leave any excess. Another option would be mixing a few drops of the serum into your body lotion for easier application.
Based on my experience with self-tanners, I've come to the conclusion that it's practically impossible not to have a streak or two somewhere. As far as I'm concerned, a streak here or there is a small price to pay to look sun-kissed during the colder months of the year. I will definitely be using this serum until the weather warms up enough for me to get a real tan!
TWO – I bought this Too Faced Natural Eyes Neutral Eye Shadow Palette a few weeks ago because I was running low on eye shadow and had been eyeing this collection for a while. I absolutely love it! Not only are the colors gorgeous and wearable, but the compact comes with a simple step-by-step tutorial insert that shows you how to create three easy looks (Day, Classic, Fashion). This is a new staple in my makeup collection!
THREE – Last Fall my sister recommended this Stila 'Stay All Dy' Waterproof Liquid Eyeliner. I was more accustomed to $8 dollar eyeliner so I cringed when she told me the price, but she assured me it was totally worth the $22. I figured pourquoi pas and picked some up, and let's just say I'm so glad I did. Would you believe that I've been using that same eyeliner stick for almost a year?! I use it every day and it is literally just now running out – 11 months later. This is by far the best eyeliner I've ever come across. If you're afraid of liquid eyeliner, put your fears aside and try this one! It goes on so easily and stays on well. And did I mention that it lasts forever?! Please, do yourself a favor and get some of this. You'll thank me. I promise.
FOUR – Yet again, my sister didn't lead me astray when she recommended this Make Up For Ever Ultra HD Invisible Cover Foundation. I used Bare Minerals Matte Foundation for years and was very pleased with it, but I had a few months where my face kept breaking out and I wanted an option that would give me more coverage. I noticed that my sister's make up always looked so much more finished than mine so asked what she used. She had tried several different foundations and said this was, by far, her favorite. After doing my own research on different full coverage foundations and reading lots of reviews, I followed my sister's lead, picked this up, and never looked back. Even if you're a fan of more sheer powder foundations, you should have some of this stuff in your makeup arsenal for those times when you really wanted to flawless!
*FYI, I wear Y315 (used to be called 125).
FIVE – So I'm realizing that this post should be dedicated my sister, Ivy. I owe her for the discovery of 3 out of 5 of these products! Not only did she recommend the eyeliner and the foundation, but she's also who I have to thank for introducing me to the Beauty Blender. She gave me one of these about a year ago and, to be honest, I had no idea what to do with it. It sat in my makeup bag pretty much unused until about a month ago when a makeup tutorial that came up on my instagram feed featured the Beautyblender. After seeing the video, I decided to pull mine out and give it a try. I can't believe it took me a year to start using this handy little booger.
Rather than using a brush to put my foundation on, I now use the Beauty Blender. I simply put small dots of my foundation all over my face, dampen my beauty blender, then blend my foundation all together by sort of bouncing the sponge all over my skin. I use the smaller pointed end to dab and blend concealer under my eyes to camouflage any dark circles. It works like a charm! Also, interesting fact: I read that the sponge actually works better the more you use it. This is because the natural oils from your skin that are absorbed into the sponge actually help your foundation go on even smoother.
Say à Dieu to those brush streaks you get when painting on your foundation with a brush and say bonjour to perfectly blended foundation!
What are your favorite beauty products? Feel free to share in the comments section below. I love to hear what other women swear by!
Bon week-end,
As always, I've linked up with the following ladies for our Friday fun: April, Christina, Natasha; Karli; Erika, Narci, and Andrea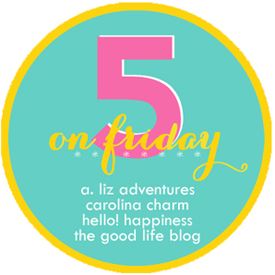 *some affiliate links used