I have always loved Fridays, but this Friday in particular I'm as giddy as a school girl. Do people even still say that in America? Sometimes I feel like I'm out of the loop when it comes to modern English lingo. But I digress…
Let's get back to the important stuff! I'm teaming up with April, Christina, Natasha; Karli; Erika, Narci, and Andrea for another round of my top five this Friday:
1 – BON VOYAGE : Remember me saying I was especially excited this Friday? That's because in less than 24 hours, I'll be catching a flight at the crack of dawn to rendez-vous with my longtime best friend Lindsay in PARIS. Our awesome husbands are going to hold down the forts and manage the kiddies while we galavant around one of the most gorgeous cities in the world, drinking wine and dining in fabulous restaurants. Quelle chance!! We'll both be posting pictures from our trip upon our return, so be on the look out.
2 – TEMPTING MY TASTE BUDS : Butternut Sage Scones. I pinned this recipe this week and have been hoping to find an excuse to make these. I have a butternut squash sitting on my counter and these babies are calling my name! I might have to whip up some of Paul Virant's Pumpkin Butter while I'm at it. I have a feeling a dollop would go perfectly on one of these scones.
Also, I mentioned these Lentil Cauliflower Tacos with a Creamy Chipotle Sauce on a recent Five on Friday. I finally got around to making them last week and they didn't disappoint. If you're a veggie lover looking for a meat alternative to your classic taco, I recommend giving these a shot.
3 – FOR THE AMERICAN IN ME : On Wednesday, I dropped the kids off for school in my running clothes. A French maman stopped me to chat and asked if I was going running. I confirmed, mentioning that I was going to swing by the grocery store first to grab a couple of things.
The look on her face was priceless. She could barely hide how shocked and amused she was by the idea that I would go anywhere dressed comme ça.
Mais tu vas faire les courses en tenue de sport?! (You're going shopping in your workout clothes?! )
Indeed, I am. After all, je suis américaine….
God bless America where there's nothing shocking about shopping in your workout clothes.
And God bless France where appearance is so important that many women wouldn't be caught dead shopping in workout clothes.
4 – TAKING IN THE SCENERY : Speaking of running, I haven't been as consistent lately as I was earlier in the year. Maybe it's my body going into hibernation mode preparing for the colder seasons. Or, maybe between the launch of French Bliss Me, our whole washing machine ordeal, and my upcoming trip (see #5), I have too many other things that have been vying for my time. Either way, running seems to have taken a back seat these past few weeks. I only managed to go running twice this week, but both days I took an alternate route so I could treat myself to this gorgeous view…
5 – PUMPKIN-FLAVORED EVERYTHING : A dear friend of mine who clearly knows me very well forwarded me this
article
about
Peter Thomas Roth's Pumpkin Enzyme Mask
. Like many Americans, I start craving
pumpkin
everything
by the third week in September. I know some people like to hate on the modern obsession with PSL and the likes, but quite frankly
j'adore
. As the weather turns colder and the days grow shorter, that summertime glow we were all sporting back in July starts disappearing faster than those espresso-glazed pumpkin donuts I made a few weeks ago. If slathering my face with something that smells like
pumpkin pie
will leave my skin softer, smoother, and looking radiant, then
sign me up
! The reviews on this stuff are pretty stellar from what I've read, so it's definitely going on my Pumpkin Wish List.
Bon week-end,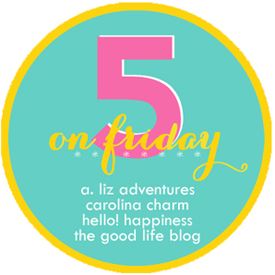 *some affiliate links used